UHMW – Engineered plastic with low coefficient of friction. Relatively slow wear for most applications where bulk material conveyed has some liquid or sticky properties.
1、 耐磨性居塑料之冠,比尼龙66和聚四氟乙烯高4倍,比碳钢高6倍;Abrasion resistance at the top in plastics, 4 times higher than nylon 66 and PTFE, 6 times higher than carbon steel;
2、冲击强度列塑料之首,为PC的2倍,ABS的5倍,且能在液氮温度(-196℃)下保持高韧性; The impact strength ranks first among plastics, which is 2 times of PC and 5 times of ABS, and can keep high toughness at liquid nitrogen temperature (-196)
3、自润滑性与聚四氟乙烯相当,摩擦系数仅为0.07-0.11; Its self-lubrication is approach to that of PTFE, and the coefficient of friction is only 0.07-0.11
4、冲击能吸收值在所有塑料中为最高值,消音效果很好; The impact absorption value is the highest among all plastics, and the sound attenuation effect is very good
5、化学稳定性很高,在一定温度和浓度范围内能耐各种腐蚀介质及有机介质的作用; High chemical stability, in a certain temperature and concentration range can withstand the action of various corrosive media and organic media
6、抗粘附能力极强,仅次于聚四氟乙烯; Strong anti-adhesion ability, second only to PTFE;
7、完全卫生无毒,可用于接触食品和药品; Completely hygienic and non-toxic, can be used to contact food and medicine
8、耐腐蚀性能优越,摩擦系数低,比重小,良好的抗高能量辐射性能.
Excellent corrosion resistance, low friction coefficient, small specific gravity, good high energy radiation resistance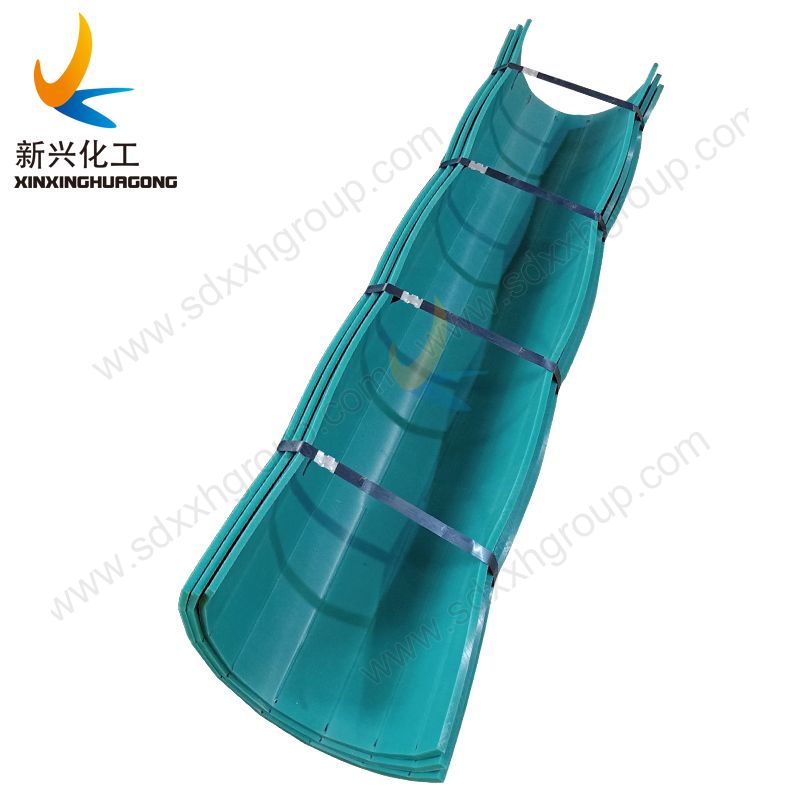 产品规格:
产品规格: 外直径φ200-1500mm 厚度5mm-20mm 长度1000-2500mm
External diameter: φ200-1500mm thickness: 5-20mm, length: 1000-2500mm
该范围内均可定制生产,半圆以上直边部分也可以定制生产
All size accept customization, include the flat edge above the half circle part
产品颜色: 多色均可生产,以白色 黑色为主
Color: white, black, others also acceptable
私人定制: 双色折弯板 (提示衬板最薄层,以保护设备)
Private order: double color bending sheet( warning the thin layer to protect the equipment)
应用范围: 无轴螺旋输送机
Application: shaftless screw conveyor