§ Superior Weight-Bearing Capacity: composite mats have a weight-bearing capacity of up to 600 psi / 86,400 lbs. per sq. ft.
§ Strong Support Structure: its cross-ribbed interior distributes weight across the entire panel. These mats are not intended for bridging.
§ Maximum Shipping Efficiency: composite mats are properly sized to easily ship 40 mats in standard 40ft containers and flatbed trailers.
§ Easy Cleaning: composite mats can be cleaned using a high-powered pressure washer. Most commercial cleaning agents will not damage the surface, but consideration should be given to environmental concerns.
§ Flammability Resistance: UL-94 HB Rating.
§ Non-Conductive: composite materials are inert, providing a non-conductive safe working platform.
§ Better than Wood: Unlike plywood, this composite road mats will not warp, rot, crack, or delaminate, and contains no unsafe chemicals.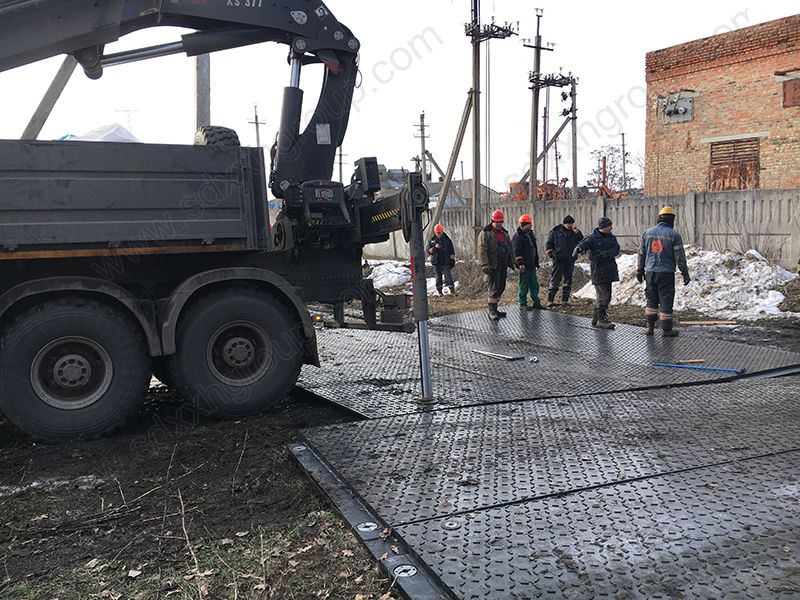 Why are composites mats better than the alternative?
Well, hardwood mats rot and degrade in a relatively short amount of time when compared to the composite alternatives. Composite mats will never rot and, therefore, can last indefinitely. Composite construction mats will easily outlast wooden crane mats. It can last 10 years or longer.
COMMON APPLICATIONS:
Construction Projects
Highway and Infrastructure
Pipeline & Underground
Utilities
Size:
2130*5800mm, any length is available
thickness:88mm
Shipment:42pcs/40HQ
ALSO KNOWN AS:
Crane Mats
Rig Mats
Access Mats
Construction Mats