light duty temporary HDPE floor panels
light duty temporary HDPE floor panels
light duty temporary HDPE floor panels
light duty temporary HDPE floor panels
light duty temporary HDPE floor panels
light duty temporary HDPE floor panels
light duty temporary HDPE floor panels
light duty temporary HDPE floor panels
Advantage of light duty ground mats temporary road access panels:
Quickmats is durable, light weight, and extremely strong. The mats are engineered to provide ground protection and access over soft surface and will provide a firm support base and traction for numerous activities.
*Creates an instant roadway over virtually any type of terrain (mud, sand, marshy, uneven or soft terrain).
* Protects valuable turf during landscaping projects.
* Superior alternative to plywood and fiberglass - will not warp , rot , crack or delaminate.
* Save times&labor getting vehicles and equipment traversed over difficult terrain.
*Avoid potential injuries to workers incurred while dislodging vehicles & equipment from excessive wear and damage due to operating on unstable ground conditions.
* Easily handled and laid by two men-no need for expensive crane wagons.
* Lay as two parallel tracks or a single roadway or others.
* Link together with metal connections.
* Easily cleaned due to less aggressive lug pattern.
* Extremely durable to withstand vehicle weights up to 80tons in static.
* Tested in extremes of hot and cold climates.
* Can be used hundreds of times.
Link connectors of ground mats: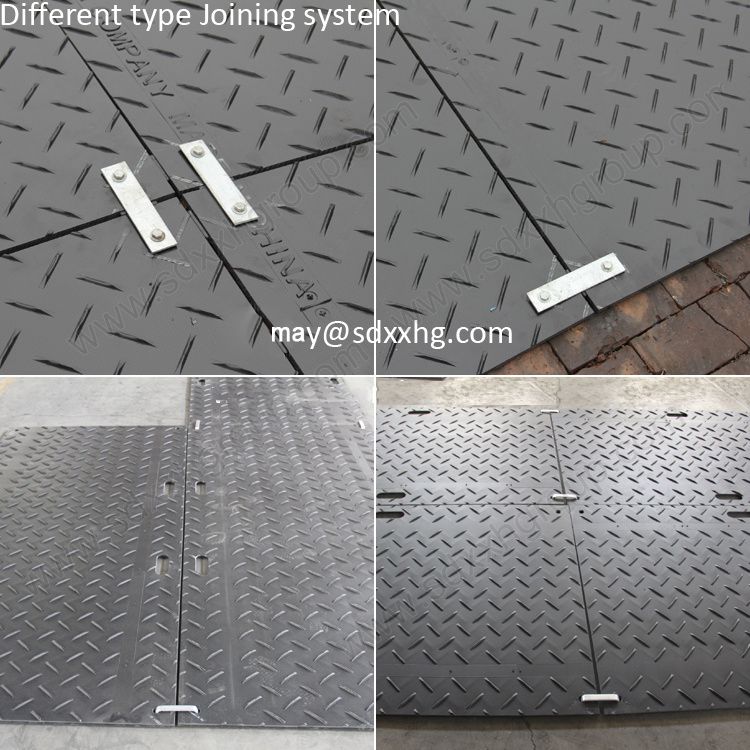 Protect your turf and provide access nearly anywhere
- Temporary flooring
- Stadium ground covering
- Outdoor Events/shows/festivals/stadium/wedding/Beach Access
- Building site access works
- Construction site, civil engineering and ground work industries
- Emergency access routes
- Golf course and sports field maintenance
- National Parks
- Landscaping
- Utilities and infrastructure maintenance
- Cemeteries
- Temporary roadways and airport&parking
- Military sites
- Caravan parks
- Heritage sites and eco friendly areas
- Safety road for pedestrian/vehicle/wheel chair
Specifications:
Color: black, white, green, yellow, red. blue, beige and customized color
| | | | |
| --- | --- | --- | --- |
| | Thickness | Weight | Loading Weight |
| 1220x2440mm | 12.7mm | 41.67KGS | 50 Tonnes |
| 1220x2440mm | 15mm | 48.52KGS | 60 Tonnes |
| 1220x2440mm | 20mm | 63.40KGS | 80 tonnes |
| 1000x3000mm | 25mm | 78.90KGS | 100 tonnes |
| 2000x5900mm | 28mm | 354KGS | 120 tonnes |