HDPE temp construction lawn and Ground protection mat
These ground protection mats virtually eliminate damage to lawns and landscaped areas throughout the world...from Asia, North America, Africa, Australia, Europe. These rugged ground protection mats are the popular choice among professionals. They are easy to use, lock into place to form a continuous, solid roadway or work platform and they last for years. They are unequalled for quality and performance under the most hazardous conditions.
All the mats are used in a broad variety of applications such as construction, golf courses, utilities, landscaping, tree care, cemeteries, drilling…wherever saving the costs of ground restoration is a factor. And they are great to save heavy vehicles from getting stuck in mud.
All the mats provide locking links designed of steel to fit into holes on each end of the mats, locking them end-to-end to create a continuous roadway, or you can easily create a large platform for working vehicles.
Application of ground protection mat
HDPE temp construction lawn and Ground protection mat
HDPE temp construction lawn and Ground protection mat
HDPE temp construction lawn and Ground protection mat
HDPE temp construction lawn and Ground protection mat
HDPE temp construction lawn and Ground protection mat
Advantages of Ground Protection mats Portable Mats:
Prevent Damage – Protect lawns and other surfaces from vehicles or heavy equipment

Save Time – No lost time because of stuck vehicles or equipment
Save Money – Stop replacing slippery, heavy, wet, rotten, broken plywood
Prevent Injuries – Lighter weight with hand cutouts for easy lifting
Longer Life – UV protection prevents material degradation
Effortless Loading – Easy to load and unload with unique traction design
Customization – Custom colors and logos are available
Surface of Ground protection mats(the texture on the both size could be different according to you requirement):

Connection of ground protection mats: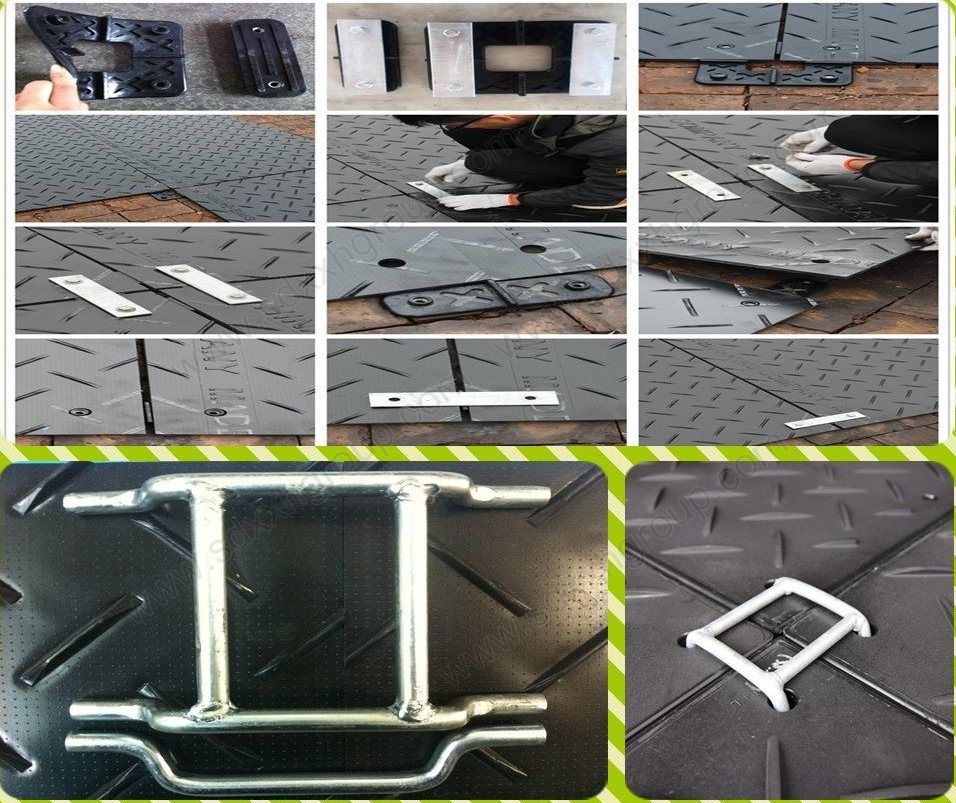 HDPE ground protection mats Specifications
Temporary road mat for vehicles in the areas of application:
Civil engineering construction site and foundation work
the pedestrian overpass
emergency channel
Temporary road and parking lot
The maintenance of public venues and infrastructure
afforestation and the protection of heritage and ecological conservation
golf courses, and maintenance of the sports ground
sports and leisure activities
drilling engineering
oil drilling industry
Marshes, wet muddy ground condition and so on some emergency construction site
Specifications temporary road mat for vehicles:
Material:
HDPE (high density polyethylene), UHMWPE (ultra high molecular weight polyethylene plate)
Temporary road mat for vehicles standard size:
2000mm*1500mm
4000mm*1500mm
1500mm*1000mm
Thickness(10mm~60mm)